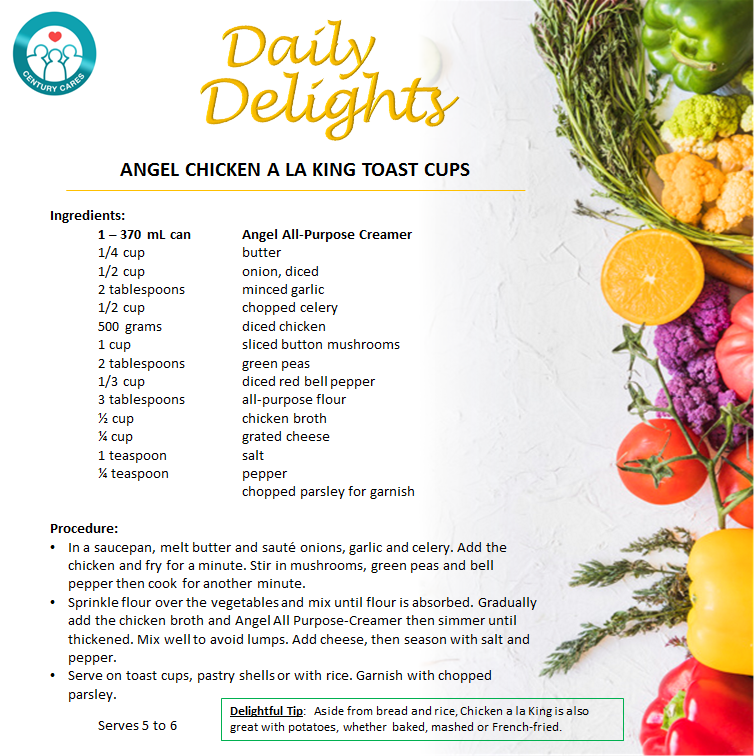 Ingredients
1 – 370 ml can
Angel All-Purpose Creamer
1/4 cip
butter
1/2 cup
onion, diced
2 tablespoons
minced garlic
1/2 cuo
chopped celery
500 grams
diced chicken
1 cup
sliced button mushrooms
2 tablespoons
green peas
1/3 cup
diced red bell pepper
3 tablespoons
all-purpose flour
1/2 cup
chicken brotj
1/4 cuo
grated cheese
1 teaspoon
salt
1/4 teaspoon
pepper
choppe parsley for garnish
Procedure
In a saucepan, melt butter an saute onions, garlic and celery. Add the chicken and fry for a minute. Stir in mushrooms, green peas and bell pepper then cook for another minute.
Sprinkle flour over the vegetables and mix until flour is absorbed. Gradually add the chicken broth and Angel All Purpose-Creamer then simmer until thickened. Mix well to avoid lumps. Add cheese, then season with salt and pepper
Serve on toast cups, pastry shells or with rice. Garnish with chopped parsley.
Serves 5 to 6
Delightful Tip: Aside from bread and rice, Chicken a la King is also great with potatoes, whether baked, mashed or French-fried.